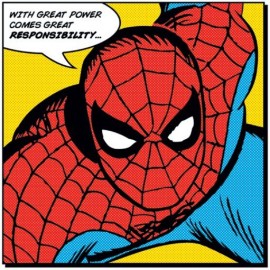 I'm a fan of Seth Godin, and have been since Purple Cow, one of his very first books.
Here's another one of his snaps of wisdom. It reminded me of a conversation I had with a VP of Marketing and Communications at a well known University this week.
It's possible that Peter Parker was uninformed.
Organizations tend to view "responsiblity" as doing the safe, proven and traditional tasks, because to do anything else is too risky. The more successful they become, the less inclined they are to explore the edges.
In fact, organizations with reach and leverage ought to be taking more risks, doing more generous work and creating bolder art. That's the most responsible thing they can do.